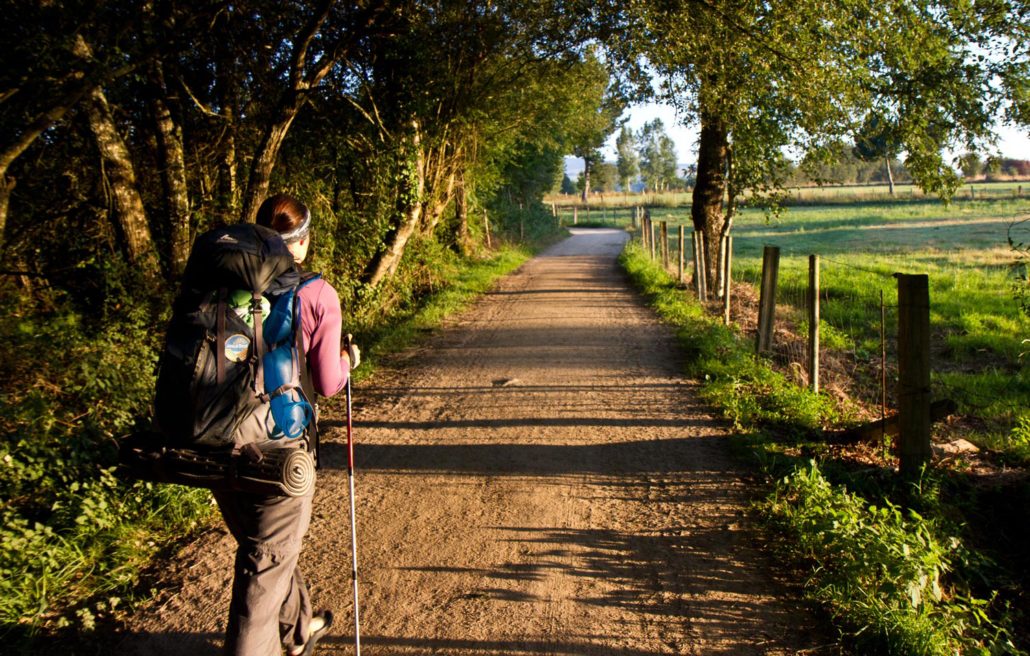 Leave No Trace (LNT)
The Center of Outdoor Ethics has developed a set of seven principles, known as Leave No Trace, to be applied to outdoor activities to minimize negative effects on the environment. While these principles are generally applied to camping and backcountry trips, most of the principles still apply for a journey such as the Camino de Santiago.
Plan Ahead and Prepare
Know the regulations and special concerns for the area you'll visit.
Prepare for extreme weather, hazards, and emergencies.
Schedule your trip to avoid times of high use.
Visit in small groups when possible. Consider splitting larger groups into smaller groups.
Repackage food to minimize waste.
Camp and Travel on Durable Surfaces
Durable surfaces include established trails and campsites, rock, gravel, dry grasses or snow.
Protect riparian areas by camping at least 200 feet from lakes and streams.
Good campsites are found, not made. Altering a site is not necessary.
In popular areas:
Concentrate use on existing trails and campsites.
Walk single file in the middle of the trail, even when wet or muddy.
Keep campsites small. Focus activity in areas where vegetation is absent.
Dispose of Waste Properly
Pack it in, pack it out. Inspect your campsite and rest areas for trash or spilled foods. Pack out all trash, leftover food, and litter.
Deposit solid human waste in catholes dug 6 to 8 inches deep at least 200 feet from water, camp, and trails. Cover and disguise the cathole when finished.
Pack out toilet paper and hygiene products.
To wash yourself or your dishes, carry water 200 feet away from streams or lakes and use small amounts of biodegradable soap. Scatter strained dishwater.
Leave What You Find
Preserve the past: examine, but do not touch, cultural or historic structures and artifacts.
Leave rocks, plants and other natural objects as you find them.
Minimize Campfire Impacts
Campfires can cause lasting impacts to the backcountry. Use a lightweight stove for cooking and enjoy a candle lantern for light.
Where fires are permitted, use established fire rings, fire pans, or mound fires.
Respect Wildlife
Observe wildlife from a distance. Do not follow or approach them.
Never feed animals. Feeding wildlife damages their health, alters natural behaviors, and exposes them to predators and other dangers.
Protect wildlife and your food by storing rations and trash securely.
Be Considerate of Other Visitors
Respect other visitors and protect the quality of their experience.
Be courteous. Yield to other users on the trail.
Let nature's sounds prevail. Avoid loud voices and noises.

The Leave No Trace Seven Principles have been reprinted with permission from the Leave No Trace Center for Outdoor Ethics: www.LNT.org
---
Responsible Tourism
Worldwide, tourism is a $500 billion a year industry, making up about 11% of the world's economy. Unfortunately, the huge amounts of money involved in the tourism industry rarely reach those who need it most, and too often set up exploitative and unbalanced relationships between citizens of a host country and visitors to that country. Some tours are set up so that tourists see only one side of the country they visit—luxurious hotels, air-conditioned buses, impressive historical sites, without any interaction with local people or understanding or how they live. In this model, the tourist is the customer and "the customer is always right," so tours are aimed at customer satisfaction without considering the well-being of the host community.
A new movement in the tourism industry is a focus on socially responsible tourism, which aims to educate travelers about local issues and conditions, and also to foster positive interaction between locals and visitors. Rather than viewing the relationship between locals and tourists as purely financial between provider and customer, ethical tourism aims to frame that relationship as one of mutual respect between host and guest.
Socially responsible tourism also involves respect and care for the local ecology and environment. It aims to minimize environmental impact of tourism, while promoting ecological conservation in local communities by providing an economic incentive to maintain and preserve local ecology.
The Camino de Santiago fits this model well, and one of the great contributions of the modern Camino resurgence has been to bring life back to many semi-abandoned rural villages. Historically, young people across the country were leaving small villages for the career and educational opportunities in larger cities. The Camino has given locals a reason to start businesses in traditional villages that otherwise had little to no economic opportunity other than fluctive and challenging agricultural work.
Walking is a non-threatening, low-environmental-impact means of travel that encourages interaction with local people. The trail encourages local people to take an active role in caring for the environment as stakeholders in a project that provides business for them. Locally-owned albergues provide a refreshing and economical option as opposed to large chain hotels, and directly support local families. When local business owners and international visitors interact face-to-face, more tourism money can stay in and benefit local communities.