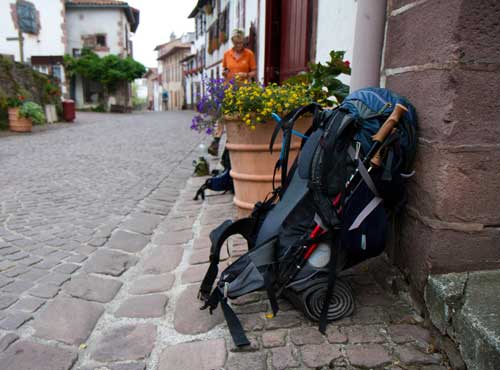 Camino Gear Guide
Selecting walking and travel gear for the camino can be stressful and costly. There are so many models of backpacks, hiking boots, and a myriad of travel and packing gadgets, that it is easy to be confused. We recommend stopping by your closest gear store to try on various gear and get expert opinions from knowledgeable staff members. Remember that everyone is different, so the gear that worked perfectly for a friend or relative might not work for you. Look for stores, such as REI that offer guarantees and flexible return policy so you can really see if a piece of gear works for you.
Below you will find some of our recommendations for Camino gear and packing. Remember to keep it light!
Backpack
A pack of 30-40 liters is sufficient for a warm weather hike. 40-60 liters may be necessary in winter. Look for a backpack which is lightweight but supportive enough for the weight you plan to carry. Have your torso length measured to purchase the appropriate size backpack.
Women's
Men:
Unisex:
Organization:
Hiking shoes or boots
We recommend something sturdy but not too heavy. Remember to try on shoes at the end of the day or after walking a bit, as your feet tend to expand during the day. Wear the socks you plan to hike in to try on new shoes. Break in new shoes for at least two month before walking the camino. Some prefer a waterproof membrane, such as Gore-Tex, though waterproof shoes are not as breathable.
Women:
Men:
Hiking Socks
Sleeping Bag
In summer, only a very light one-season sleeping bag is needed, and some people make do with a sleeping bag liner only. In winter, a three-season sleeping bag might be necessary for the cooler weather. Some walkers treat their sleeping bags with permethrin or other insect repellant to keep bed bugs away.
Headlamp or Flashlight/Torch
Head-mounted lights are convenient for hands-free use. Even a small keychain light can be enough. Very useful for staying in hostels where you don't want to wake up the whole room by turning on the overhead lights.
Sun Protection
Always be prepared for sunny days, especially in the Meseta area that has little shade. Sunscreen, hat, lipbalm with SPF and a long-sleeved shirt are best, and a bandana or Buff is good for covering the vulnerable neck area. Aim for SPF of at least 25.
Towel
A lightweight travel towel is needed to drying off after you shower and can do double duty as a sunshade, pillow cover, etc. Take as small a size as you can handle to save weight. You'd be surprised how dry you can get with a very small towel!
Water Bottles/Hydration System
Staying hydrated is of utmost importance. Even though the camino offers frequent refill stops, there are sometimes 10-15km between water sources. We suggest a carrying capacity of up to 2 liters. Some prefer hydration reservoirs with bite valves, such as CamelBak, for convenient hands-free sipping. Some Gatorade or other electrolyte mix can encourage drinking more frequently.
Waterproof pack cover or poncho
Keep your gear nice and dry with a waterproof pack cover or poncho that can cover you and the pack. The low-budget alternative is a garbage bag used to the line the inside of your pack. Remember to pack electronics and valuables in zipping plastic bags or waterproof stuff sacks.
Utility Knife
A small utility knife can be helpful for slicing fruit, cutting athletic tape, and many other scenarios. Remember that most knives must be checked on flights, or you could purcase an inexpensive knife in Spain
Travel Wallet
A good way to keep your valuables secure, and can be worn under clothes at the airport and in big cities where theft is a risk. A lightweight bag is helpful for carrying valuables around in the evenings.
Earplugs
Very important for a good night's sleep, even in a dorm room full of snoring!
Plug Converter
European plugs are different than American and Canadian plus, and run on 220V electricity. Most electronics can run on 110 or 220V, but simply need a plug converter to recharge in European plugs. Consider bringing a converter with two plugs, so you can share the outlet with another hiker or recharge two items at once
First Aid Kit
Blister Prevention and Treatment
Biodegradable Soap/Laundry Detergent
Hiking Poles
Lightweight Cooking pot
Many albergue kitchens are well-stocked, but in Galicia many lack cookware. You could bring your own titanium pot for as little as 3 oz.