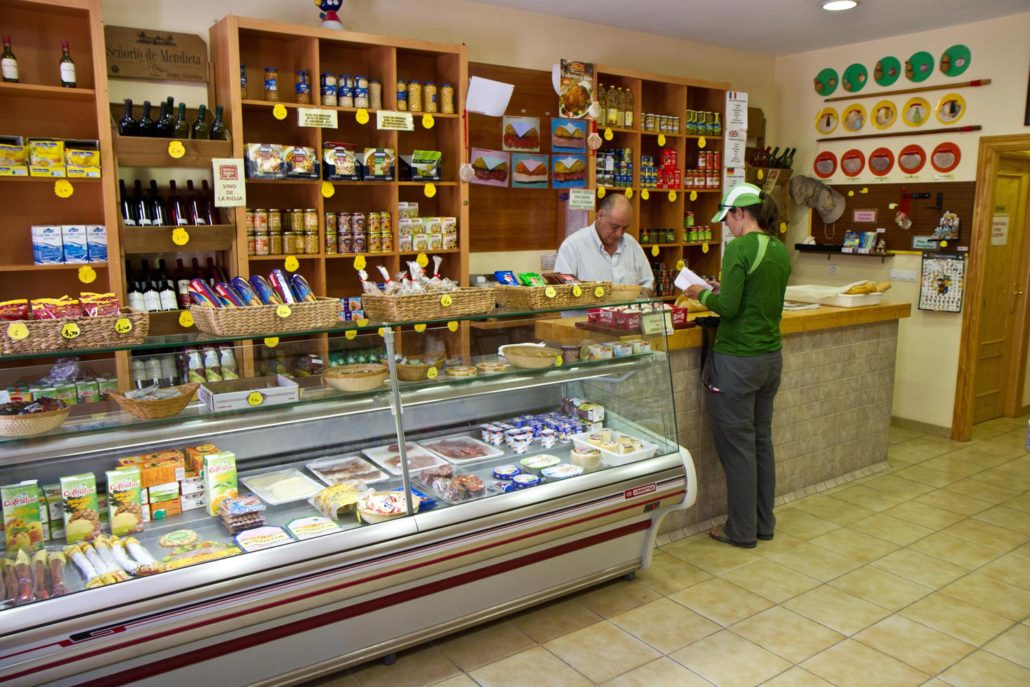 Food
Some suggested foods to carry on the camino for lunches and snacks:
Trail mix with nuts, seeds, and dried fruit
Fresh fruit (apples carry well, bananas are good for muscle cramps with their potassium)
Fresh vegetables (cucumbers and tomatoes travel well)
Bread: fresh Spanish baguettes are delicious and inexpensive.
Ham: Spain has so many delicious varieties
Cheese: also many varieties are available. Ask for a small quantity from the deli (50-100 grams) to avoid wasting extra that you cannot refrigerate.
Easy dinners for albergue cooking:
Pasta with tomato sauce (add canned tuna or chicken and peas for protein)
Chicken stirfry over rice
Beans and rice
Tres Delicias- a rice dish with shrimp, eggs and peas found in the frozen food section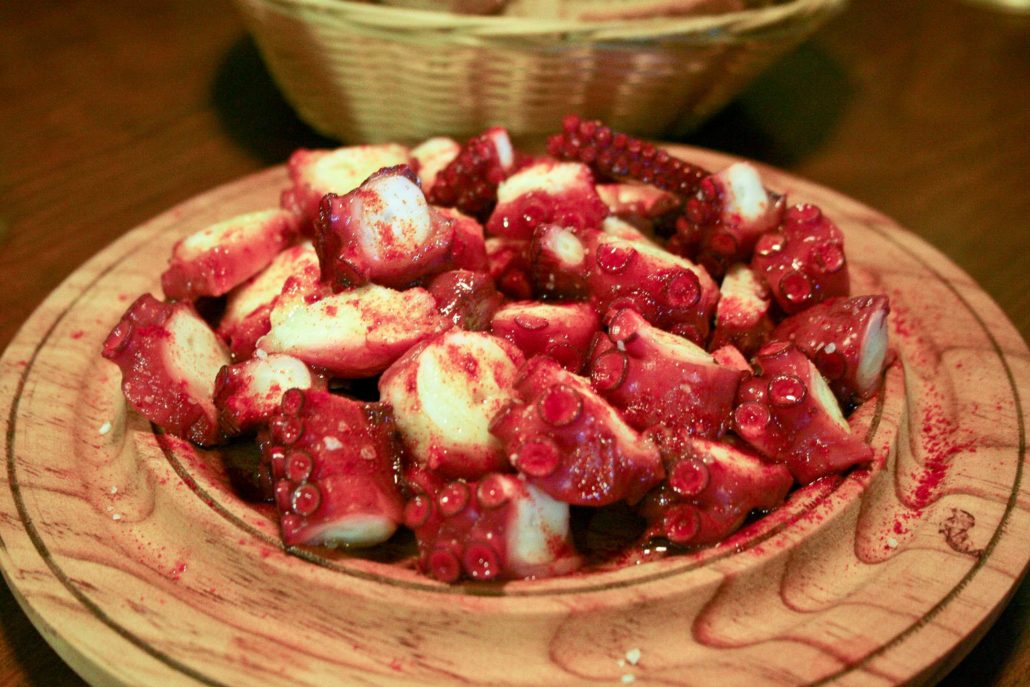 Water
Water is ready available along the camino, and it's important to stay well hydrated along the way.
It is always better to err on the side of having too much water (which you can share or dump out) than the dangerous consequences of having too little. Most people do not drink enough water as they walk. Proper hydration will help you to feel better, have more energy and recover more quickly. Drink every 15-20 min, before you feel thirsty. Avoid overdoing it on caffeinated drinks and alcohol, which can contribute to dehydration. Don't forget to keep hydrating in the evening after you're finished walking.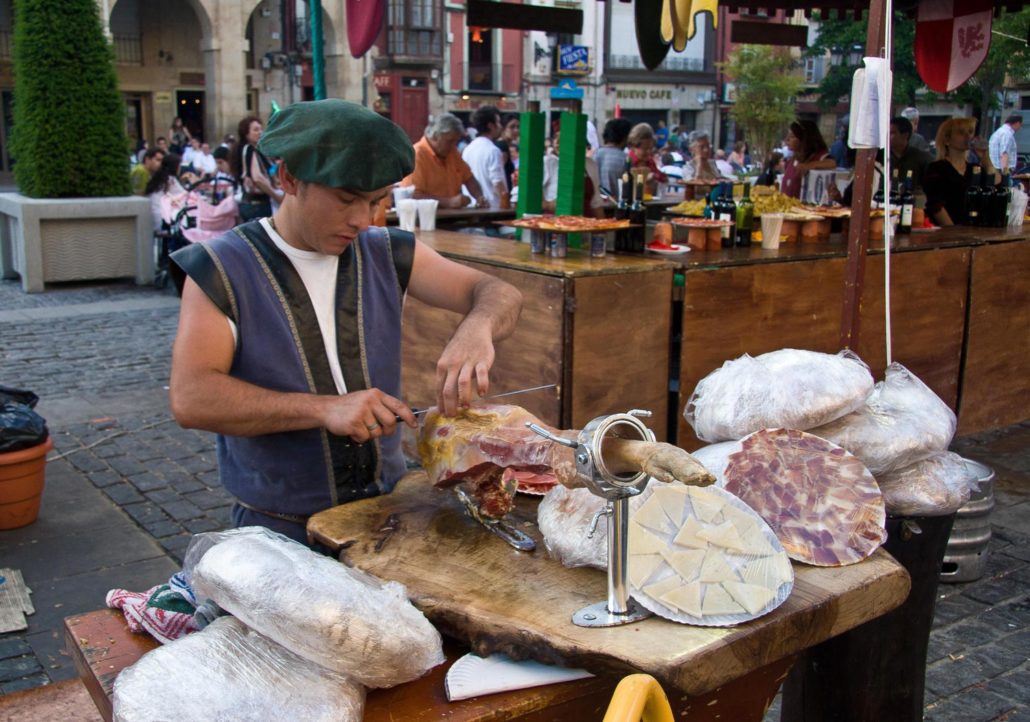 Vegetarians on the Camino
Awareness of vegetarian needs is increasing along the camino, with some restaurants offering vegetarian pilgrim menu options.  However, meat is ubiquitous in the average Spanish menu and it may take some creativity to maintain a vegetarian diet. Even vegetable soups and stews are often made with meat stock. Salads are common and quite good, though usually include tuna, so you may need to request a vegetables-only salad.  The Spanish tortilla, a potato and egg omelette, makes a good addition for those who eat eggs. For those who eat fish, there are many options. If ordering a set menu, you can often substitute two starters (for example, a salad and soup, or salad and pasta) rather than a starter and a meat-laden main course.
If you're preparing your own meals, you should not have any trouble finding good protein alternatives, such as peanut butter, nuts, beans and cheese, and in larger towns you can find things like tofu and hummus.  Vegan travelers may have a more difficult time of it, though not impossible, and will need to be resourceful and perhaps carry a bit more food from better-stocked grocery stores.
Albergues and restaurants which offer vegetarian meals:
Stage 1: Orisson, Albergue Orisson
Stage 2: Roncesvalles, La Posada restaurant (offers fish and vegetarian options)
Stage 3: Pamplona, Sarasate restaurant, c/San Nicholas
Stage 5: Villatuerta, La Casa Magica albergue
Stage 7: Logroño, Begin Vegan (vegan store, carries gluten-free products), c/Somosierra 17
Stage 11: Agés, Albergue San Rafael (also Celiac meals)
Stage 12: Burgos, Gaia restaurant, c/Fernan Gonzalez 37
Stage 19: León, L'Union restaurant,  Flórez de Lomos 3
Stage 20: Vilar de Mazarife, Albergue San Antonio de Pádua
Stage 21: Hospital de Órbigo, Albergue Verde
Stage 22: Foncebadón, Albergue Monte Irago
Stage 23: Al Acebo, La Trucha B&B
Stage 24: Pieros, Albergue El Serbal y la Luna
Stage 25: Ruitelán, Albergue El Pequeño Potalo

Herrerías, Albergue Herrerías
La Faba, Albergue Vegetariano (not always open)

Stage 27: Albergue Ecológico El Beso

San Mamed del Camino, Albergue Paloma y Leña

Stage 31: Santiago de Compostela, Cedros Restaurant, Rua do Vilar 81
Spanish Phrases for Vegetarians:
Without meat, please. Sin carne, por favor.
Without tuna, please. Sin atún, por favor.
Do you have any vegetarian meals? Tiene algún menú para vegetarianos?
Does it have meat? Lleva carne?
I do not eat meat, dairy, eggs or any animal products. No como carne, lácteos, huevos o productos de origen animal.
 Celiac/Gluten Free and Dairy Free Options
Larger grocery stores in Spain do have a selection of gluten-free products, such as the Italian gluten-free brand Schar. Awareness of celiac is not high in the general population.  Spanish tortillas (made of potatoes and eggs) are a good option.  Rice is widely available, and many fresh vegetables, meats and cheeses.
Spanish phrases for gluten free options:
Celiac: celiaquía
Gluten free: sin gluten
I cannot eat wheat, barley, rye or oats: No puedo comer trigo, centeno, cebada y avena.
You can download restaurant cards in Spanish from www.celiactravel.com to hand to your waiter to request a gluten-free meal.
Check out "How to Survive the Camino de Santiago Being Gluten and Dairy Free" by Christina Kantzavelos