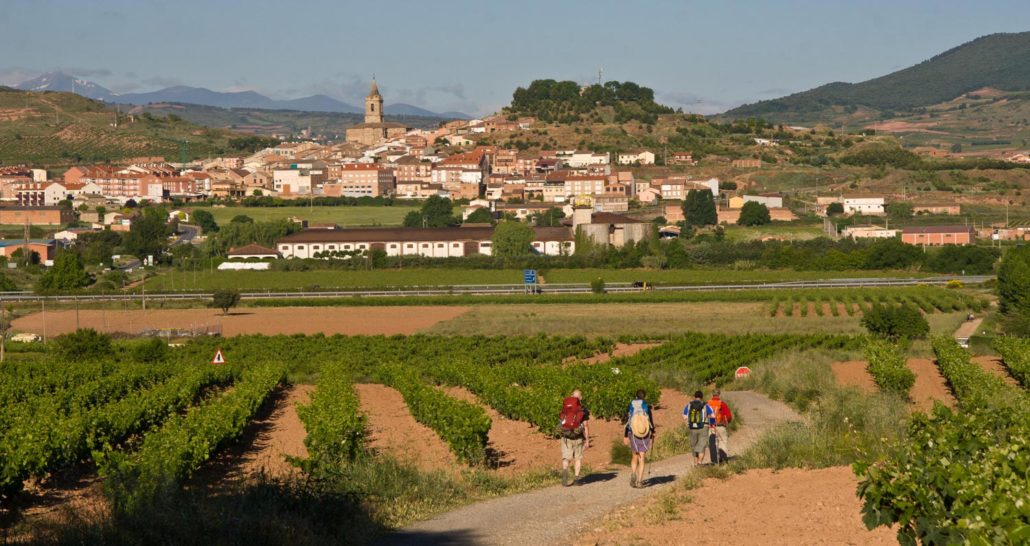 Camino Francés Itineraries
In our book, Camino de Santiago: Camino Francés (Village to Village Guide), we lay out the route from St. Jean to Santiago in 31 stages/chapters. Of course, these stages are in no way set in stone and we encourage all walkers to choose the pace and daily distance that meets their needs. Some days you may be feeling strong and want to keep going, other days you may be tired or in pain and need to cut your day short. Perhaps you planned to go further, but come across the perfect guesthouse in a quaint village before your destination. Often pilgrims accommodations in larger cities may fill up more quickly, while perfectly lovely intermediate albergues may be only half full.
Click day stages to reserve accommodations online.
---
Basque Country & Navarra, 162.9km
La Rioja & Castilla y León, 123.4km
Meseta, 231.9km
Cantabrian Mtns. & El Bierzo, 100.9km
Galicia, 159.6km
Camino Finisterre, 86.6km
---
Slower and Faster Camino Itineraries
Below are two sample "alternate" stage itineraries, a "fast" 26-day itinerary, and a "slow" 40-day itinerary.  Overall, we advise leaving a few days of leeway in your schedule so that you get into your own rhythm and choose your own daily stages as you go. With so many accommodations along the Camino Francés, there are endless combinations that allow for much flexibility.
"Slow" Camino Francés: 40 Days
Averaging 20km (12.4 miles) per day
1. St. Jean to Orisson, 7.7km
2. Orisson to Roncesvalles, 17km
3. Roncesvalles to Zubiri 22.3km
4. Zubiri to Pamplona, 21.1km
5. Pamplona to Uterga, 17.2km
6. Uterga to Lorca, 20.0km
7. Lorca to Villamayor, 17.6km
8. Villamayor to Torres del Río, 20.1km
9. Torres del Río to Logroño, 19.9km
10. Logroño to Ventosa, 19.4km
11. Ventosa to Azofra, 16.0km
12. Azofra to Grañon, 21.3km
13. Grañon to Tosantos, 20.6km
14. Tosantos to Agés, 22.9km
15. Agés to Burgos, 22.3km
16. Burgos to Hornillos, 20.9km
17. Hornillos to Castrojeriz, 20.0km
18. Castrojeriz to Boadilla, 19.1km
19. Boadilla to Villalcázar, 19.0km
20. Villalcázar to Calzadilla de la Cueza, 22.5km
21. Calzadilla de la Cueza to Sahagún, 22.4km
22. Sahagún to Calzadilla de los Hermanillos, 13.6km
23.Calzadilla de los Hermanillos to Mansilla de las Mulas, 23.6km
24. Mansilla de las Mulas to León, 17.9km
25. León to Villar de Mazarife, 21.5km
26. Villar de Mazarife to Villares de Órbigo 17.6km
27. Villares de Órbigo to Murias de Rechivaldo, 19.0km
28. Murias de Rechivaldo to Foncebadón 20.8km
29. Foncebadón to Molinaseca, 19.5km
30. Molinaseca to Cacabelos, 24.4km
31. Cacabelos to Trabadelo, 17.8km
32. Trabadelo to O Cebreiro 18.7km
33. O Cebreiro to Triacastela, 20.7km
34. Triacastela to Sarria, 18.7km
35. Sarria to Vilachá, 19.9km
36. Vilachá to Ligonde, 19.1km
37. Ligonde to Melide 23.2km
38. Melide to Arzua, 13.9km
39. Arzua to Arca, 19.1km
40. Arca to Santiago, 20.0km
"Fast" Camino Francés: 26 Days
Averaging 30km (18.6 miles) per day
1. St Jean to Roncesvalles, 24.7km
2. Roncesvalles to Larrasoaña, 28km
3. Larrasoaña to Zariquigui, 26.6km
4. Zariquigui to Villatuerta, 31.7km
5. Villatuerta to Sansol, 31.4km
6. Sansol to Navarrete, 33.4km
7. Navarrete to Cirueña, 32.1km
8. Cirueña to Belorado, 28.7km
9. Belorado to Atapuerca, 30.2km
10. Atapuerca to Tardajos, 30.8km
11. Tardajos to Castrojeriz, 29.8km
12. Castrojeriz to Villarmentero, 33.9km
13. Villarmentero to Ledigos, 32.6km
14. Ledigos to Calzadilla de los Hermanillos, 29.7km
15. Calzadilla to Arcahueja, 33.9km
16. Arcahueja to Villar de Mazarife, 29.1km
17. Villar de Mazarife to Astorga, 31.5km
18. Astorga to Foncebadón, 25.9km
19. Foncebadón to to Ponferrada, 27.1km
20. Ponferrada to Trabadelo, 34.2km
21. Trabadelo to Fonfria, 30.5km
22. Fonfria to Barbadelo, 31.9km
23. Barbadelo to Ventas de Narón, 31.2km
24. Ventas  de Narón to Boente, 32.2km
25. Boente to Arca, 27.5km
26. Arca to Santiago, 20.0km